Conference City – Antalya
Antalya: Perfect location for a congress!
A unique & historical city with astonishing beauties around
Historical treasures dating back thousands of years B.C.
Central Location for easy travel
Many choices of luxurious all inclusive hotels for a comfortable accommodation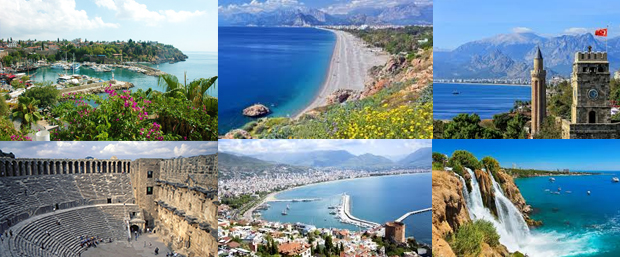 "General Information about Antalya"
With its palm trees, year-long warm climate and roughly 200 Blue Flag-certified beaches, Antalya is one of the most popular tourism destinations in the world. But there is much more to Antalya than sea, sun and beach. Whether you are a history buff or an avid golfer, Antalya will offer you a peerless experience.
The Antalya Region, offering all the mysticism of past in our day, is now called the "Turkish Riviera" due to its archaeological and natural beauties. Antalya is the place where sea, sun, history and nature constitute a perfect harmony and which also includes the most beautiful and clearest coast along the Medditerranean. The city still preserves its importance as a centre throughout history in the south coast of the country, in addition to its wonderful natural beauties. The mythological city, which housed the Gods and Goddesses, now exhibits all its secrets and marvels to mankind.
Antalya is located in the west of the Mediterranean region of Turkey. In ancient times it covered all Pamphylia, which means "the land of all tribes". The land really deserves the name since it has witnessed many successive civilizations throughout history. In 1st century BC the Pergamum king Attalus ordered his men to find the most beautiful piece of land on earth; he wanted them to find "heaven on earth". After a long search all over the world, they discovered this land and said "This must be 'Heaven' " and King Attalus founded the city giving it the name "Attaleia". From then on many nations kept their eyes on the city. When the Romans took over the Pergamene Kingdom, Attaleia became an outstanding Roman city which the great Roman Emperor Hadrian visited in 130 AD; an arch was built in his honour which is now worth seeing. Then came the Byzantines, after which the Seljuk Turks took over the city in 1207 and gave it a different name, Adalya, and built the Yivli Minaret. The Ottomans followed the Seljuks and finally within the Turkish Republic it became a Turkish city and an important port. Antalya has been growing rapidly since 1960 and its population is over 1,000,000 currently.
The climate of the province is typical Medditerranean: hot and dry in summer and temperate and rainy in winter. Sunshine is guaranteed from April to October and the winters are pleasantly mild. The average water temperature is 21.5 °C. Antalya is really a heavenly place where the summer season is about 8-9 months long.